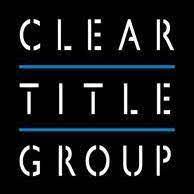 Top-Rated Title Companies in Miami
Fast Facts
Clear Title Group was established in 2023, demonstrating its recent entry into the market with fresh and modern approaches.
The company provides a wide array of services including residential, insurance, commercial, relocation, and REO services, as well as builder services, 1031 exchange services, virtual close, and cryptocurrency transactions.
Clear Title Group is at the forefront of digital transactions, offering both virtual closing and cryptocurrency transactions.
The company operates from Mount Laurel, New Jersey, but for further information or inquiries, it's recommended to reach out to them through their official website.
In-depth review of Clear Title Group
Clear Title Group, a branch of Anywhere Real Estate, is a well-regarded title and settlement services company located in the dynamic South Florida region. They have built a strong reputation through their dedication to high standards and a customized approach, making them a top choice for buyers, sellers, and real estate professionals in the area. They offer a variety of services, such as title searches, title insurance, and closing services, all aimed at facilitating a seamless and efficient transaction process.
A notable aspect of Clear Title Group is their easy-to-navigate website, which acts as a useful tool for those seeking information and support. The website provides in-depth details about their services and also includes calculators to assist users in estimating costs and making well-informed financial decisions. However, it's worth mentioning that these calculators offer estimates and not guaranteed quotes, as fees and charges can fluctuate and may not be all-inclusive. Also, the premiums listed on the website are computed based on CFPB requirements and may not reflect the company's actual rates.
Clear Title Group is known for providing a high level of service that is tailored to meet the specific needs of each client. Their team, which includes licensed title agents, processors, and customer service representatives, is committed to ensuring a smooth closing experience for all parties involved. Leveraging their deep understanding of the local real estate market, Clear Title Group strives to streamline the closing process and provide prompt assistance.
With offices in Miami, Boca Raton, and Sarasota, Clear Title Group's services are readily available to individuals across the region. Each office has its own contact details, including phone numbers and email addresses, facilitating easy communication and support.
Beyond their top-notch services, Clear Title Group also maintains a blog that discusses a broad spectrum of real estate topics. Ranging from the influence of parks on property value to LGBTQIA+ inclusivity in real estate, their blog offers valuable insights and information for those interested in the industry. This dedication to education and transparency further highlights Clear Title Group's commitment to their clients.
In conclusion, Clear Title Group is a dependable and trustworthy option for those in need of title and settlement services in South Florida. Their wide array of services, personalized approach, and commitment to high standards have solidified their reputation in the real estate industry. Whether you're a buyer, seller, or real estate professional, Clear Title Group has the resources and expertise to ensure a successful transaction.
Products and Services
Title Searches: Clear Title Group conducts thorough title searches to identify any potential issues with the title of a property. This includes identifying any liens, easements, or other encumbrances that could affect the transaction.
Title Insurance: The company provides title insurance to protect buyers and lenders from potential losses due to claims against the property that may arise after the transaction has been completed.
Closing Services: Clear Title Group manages the closing process for real estate transactions, ensuring all necessary documents are prepared and signed, funds are transferred, and the new title is recorded.
Online Calculators: The company offers online calculators on its website to assist users in estimating costs related to their real estate transactions. This tool provides valuable information for making informed financial decisions.
Interested in the Best Title Services in Miami?
If you want to find out which Title Services in Miami are the best, then you should definitely check out this website's rankings. Clear Title Group is definitely one of the top Title Services in Miami and their website is definitely worth checking out if you want to learn more about their specific services.